Testimonials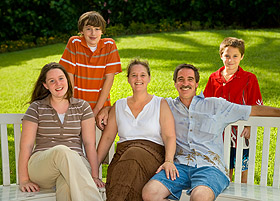 "This will be the third year Turf Tek has been caring for our yard, and we couldn't be more pleased with the results. The place looks fantastic! Not only are there a variety of reasonably priced service plans from which to choose, but Turf Tek has also been willing to fine-tune a maintenance plan that has worked well for our needs.
In addition to the regular mowing, Turf Tek has performed both Spring and Fall yard clean-up and landscaping. Perhaps most important, has been up-front if unable to perform a requested task instead of attempting it and possibly causing damage.
We highly recommend the services Turf Tek offers to anyone with a yard…period."
Lisa D., Greenwood, MO
"I've always been the type of homeowner that enjoyed doing my own yard work. Mowing, Weed Eating, Edge Trimming, Raking up the grass clumps…and all while trying to keep up with it weekly. Between the rains, work, hobbies, rest, heat and still trying to not have to do it on the weekends. WHAT A DRAG!
Turf Tek has been a God send to my sanity for 3 years now. The price they charge versus the great job they do is priceless. I've had friends comment that my property looks like a golf course. Dustin and his crew do everything better than I did myself, plus their professionalism and friendliness makes me realize I can't afford not to have them in my life and yard! GREAT JOB TURF TEK, THANK YOU!"
John B., Greenwood, MO
"Dustin it is such a joy to come home each Thursday and see that you have taken care of my lawn. My yard has never looked better! And what a surprise that you are working during the winter. You rescued me by plowing my driveway. There is no way I had the strength to get it done. I'm so glad that you are just a phone call away."
Stacey S., Greenwood , MO
"Dustin with Turf Tek is outstanding. We live out-of-state one-half of the year and needed someone we could depend on to keep our lawn in top shape. We couldn't be happier. Dustin has also done a lot of landscaping for us, creating flower beds, planting trees, etc. It looks great! We highly recommend him and his company."
Tom & Nancy B., Lee's Summit, MO
"My husband and I called Dustin Young of Turf Tek to help us with an idea we had of creating a rock pathway from our deck in the backyard to the side gate. We then wanted to continue with a similar concept from the gate to the driveway. Dustin immediately picked up on our thoughts and went to work measuring. He helped us to visualize what we wanted by offering suggestions. Within a few days, he delivered all the rock, and made plans for dirt delivery. He went to work and did not finish until he was certain we were satisfied. He has a keen eye for aesthetics and we couldn't be more pleased with the end result."
Charlie & Debbie J., Lee's Summit, MO
"It was a lucky day when we, at Bliss Plaza, were referred to Dustin Young and his business, Turf Tek. We had been experiencing drainage problems on our lawns along with landscaping issues. Dustin solved both in a timely and cost effective manner. Many times we have come to Dustin with "crazy" lawn problems and he has always been able to help. He and his crew are the hardest working individuals you will ever meet. We would never use anyone else. "
Becky & Cassy, Greenwood, MO.
"When it comes to selecting a solid landscaping company, you look to someone who can create a plan, incorporate it with what you are looking for and have excellent customer service. Turf Tek Lawn and Landscape increased the value of my home with their landscaping work. Their professionalism was impeccable and service is unmatched. I highly recommend them to anyone for lawn or landscaping work."
Dan K., Blue Springs, MO
"I have known Dustin Young for many years.  He has worked for me as an individual before he started his company.  Dustin has done everything from model home landscaping and mowing, taking care of rental properties, maintaining a large estate property, and snow removal.  Dustin has an extremely high work ethic and does it all with a smile.  Dustin jumps right in and gets the job done effectively and efficiently.   He is a pleasure to work with in any capacity.  I would highly recommend him for any job, large or small.  He is the best!"
Peggy R., Greenwood, MO
Choose a Grass Type that Thrives in your Climate
The right type of grass–one that suits your needs and likes the local weather–will always give better results. Grasses vary in the type of climate they prefer, the amount of water and nutrients they need, their resistance to pests, their tolerance for shade, and the degree of wear they can withstand. (more…)

Arrowwood Viburnum (Viburnum dentatum) – Zones 2-8. This viburnum will grow 6-10′ tall and wide, and is a popular choice for fall foliage color in the landscape. Like most viburnums, Arrowwood is easy to grow in a wide variety of garden conditions and will tolerate full sun to part shade. White flowers provide spring beauty and summer fruit attracts birds to the garden. This viburnum Fall color will have yellow to orange or burgundy-red fall colors, adding lots of beauty to the autumn garden. (more…)